PEPFAR's top 10 faith-based health partners
Catholic Relief Services provides training at health facilities in Zambia to ensure that children living…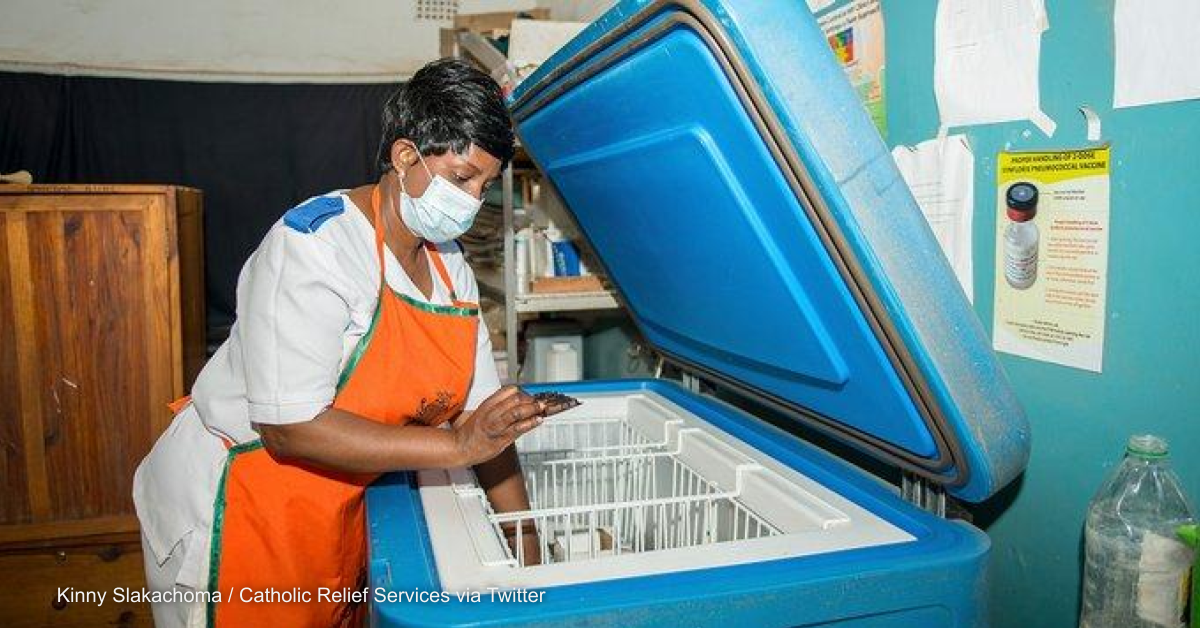 Faith-based organizations are a steady ally for the U.S. President's Emergency Plan for AIDS Relief as it channels funding, highlighting the important role they play in the global health landscape.
For the current U.S. government fiscal year — running from October 2020 to September 2021 — PEPFAR's total allocations sit at $4.2 billion, according to amfAR, The Foundation for AIDS Research's database of PEPFAR country and regional operational plans. These plans set out the budgets for implementing partners, the targets, and the expected impacts of PEPFAR's funding.
While most funding will be allocated for delivery through NGOs, private contractors, and universities, nearly $129 million — or about 3% — will be allocated through FBOs.
Since its launch in 2003, PEPFAR has invested $85 billion to fight HIV/AIDS. FBOs have remained a steadfast partner, consistently implementing an average of 4% of total allocations.
Part of our Focus on: Faith and Development
This series illuminates the role faith actors and their communities play in strengthening global development outcomes.
All of the FBOs set to receive PEPFAR funding throughout the 2021 U.S. fiscal year are based in Cameroon, Kenya, Malawi, Uganda, Zambia, or Zimbabwe. According to the World Health Organization, Africa is disproportionately affected by HIV, with almost two-thirds of new infections occurring there.
PEPFAR's 2017-2020 strategy focused on accelerating the implementation of activities in 13 high-burden countries. All of the nations with FBOs receiving 2021 PEPFAR funding — except Cameroon — were among the 13.
These are the FBOs that PEPFAR is channeling the most amount of money through this fiscal year.
1. Catholic Relief Services
Allocated funding for 2020-2021: $27,095,923
Headquarters: Baltimore, United States
Initially founded to help World War II survivors, CRS' mission is to help those who are "impoverished and disadvantaged" while working through the tenets of the Roman Catholic faith. Its board tends to include clergy members, as well as Catholic laymen and laywomen, but the organization's activities support anyone and everyone in need.
In the U.S. fiscal year 2021, a majority of PEPFAR's funding through CRS — $13,845,953 — is focused on initiatives in Zambia. Support is also directed toward Cameroon, Uganda, and Zimbabwe, although CRS works in over 100 countries in total. The majority of its PEPFAR funding goes toward HIV treatment and care, although the full allocation of $250,000 in Zimbabwe is going to health system strengthening.
2. Catholic Medical Mission Board
Allocated funding for 2020-2021: $19,036,606
Headquarters: New York City, United States
Devex is using amfAR's database to identify the top PEPFAR partners, as opposed to others — such as the PEPFAR Panorama Spotlight database — because it disaggregates partner data by the type of organization.
At over 100 years old, the Catholic Medical Mission Board delivers aid — including medicines and medical supplies — to communities across the world experiencing poverty and a lack of access to health care.
With a specific focus on women's and children's health and communities in Africa, Latin America, and the Caribbean, CMMB has field offices in Haiti, Kenya, Peru, South Sudan, and Zambia. While it offers a wide range of programs spanning nutrition, water and sanitation, and economic empowerment, CMMB's HIV work is specific to Zambia, Haiti, South Sudan, and Kenya.
PEPFAR's total allocation to CMMB in fiscal year 2021 is for projects in Zambia and Haiti. In Zambia, almost 75% is being spent on care, the majority of which is directed toward orphans and other vulnerable children. In Haiti, adult treatment is the main focus.
3. Mildmay International
Allocated funding for 2020-2021: $12,340,244
Headquarters: London, United Kingdom
Mildmay International, which has operations in the United Kingdom and East Africa, is a specialized HIV charity. It focuses on delivering care, treatment, and prevention for those affected by HIV, while also working to strengthen health care systems.
In London, Mildmay runs a hospital dedicated to rehabilitating people living with HIV-associated neurocognitive disorders. In East Africa, the organization aims to aid the most vulnerable in hard-to-reach areas. A part of that work involves training community members to provide basic health care and social support for people living with HIV.
In the fiscal year 2021, PEPFAR's planned funding to Mildmay is concentrated in Uganda. The Mildmay Uganda Hospital in Kampala provides comprehensive HIV and AIDS prevention, care, treatment, and training services for both children and adults.
4. Partners in Hope
Allocated funding for 2020-2021: $11,002,574
Headquarters: Lilongwe, Malawi
Based in Malawi, the nonprofit Partners in Hope was founded in 2004 to improve HIV/AIDs care in the country. Soon after, the Partners in Hope Medical Center in Lilongwe was born. Taking a holistic approach to prevention, treatment, and care, the center runs multiple clinics while offering assistance to other five mission hospitals and over 40 health centers. PIH's mission is to build capacity within Malawi's health care system so that it is able "to deliver quality, equitable, and sustainable service."
The PEPFAR funding supports the continuation of the PIH's work in adult treatment while a portion is being used for water, renovation, and motorcycles.
5. Kenya Episcopal Conference
Allocated funding for 2020-2021: $10,464,447
Headquarters: Nairobi, Kenya
The Catholic bishops in Kenya work to "promote the greater good." As part of their core values, they specifically aim to improve the lives of those considered underprivileged and living in poverty. That work includes addressing HIV/AIDS in the country and supporting those affected through the hundreds of Kenyan Catholic-run health care facilities.
Get development's most important headlines in your inbox every day.
Thanks for subscribing!
The majority of the PEPFAR funding committed this year — 60% — will provide treatment for both adults and children.
6. HOPE Worldwide
Allocated funding for 2020-2021: $8,150,260
Headquarters: Atlanta, United States
Starting small, HOPE Worldwide had just three programs following its launch in 1991. They focused on HIV/AIDs in Abidjan, Ivory Coast, access to health care for children in Mexico City, Mexico, and educational outreach programs for children in Bangalore, India. Based out of California, Hope Worldwide soon expanded through partnerships with the International Churches of Christ and the mobilizing of staff and volunteers. Today, it supports over 1.5 million people annually across all continents.
In 2020-2021, it received over $8 million from PEPFAR to continue its work in Botswana and Kenya, where the NGO runs prevention programs and offers testing and counseling.
7. Christian Health Association of Kenya
Allocated funding for 2020-2021: $7,538,713
Headquarters: Nairobi, Kenya
Established in the 1930s, CHAK works to improve access to quality health care through advocacy, strengthening health systems, networking, and innovative health programs. The association also offers technical support to its members, which are Protestant church-run health facilities and programs.
PEPFAR currently funds one of CHAK's four HIV programs, CHAP-Uzima. Launching in 2017 and running to 2022, the program's focus is improving HIV care and treatment in 79 faith-based and affiliated health facilities while also offering care for orphans and vulnerable children.
The majority of PEPFAR's planned funding for 2020-2021 to CHAK is going toward adult treatment and HIV testing and counseling.
8. Cameroon Baptist Convention Health Services
Allocated funding for 2020-2021: $6,747,931
Headquarters: Bamenda, Cameroon
Originating from a small village in northwestern Cameroon, CBCHS now operates in seven of Cameroon's 10 regions. With over 60 years of experience, it works through a network of six hospitals and 75 health centers to provide health care services to both urban and rural areas as well as "specialized hospital based care with integrated spiritual and social services."
The convention also runs a baptist training school for health personnel, a Center for Clinical Pastoral Education and Social Services, services for persons with disabilities, and an AIDS care and prevention program.
PEPFAR's funding allocation is almost $7 million this year, going toward adult HIV treatment as well as pediatric care, the prevention of mother-to-child transmission, and HIV testing and counseling, among other things.
9. Eastern Deanery AIDS Relief Program
Allocated funding for 2020-2021: $5,859,426
Headquarters: Nairobi, Kenya
A Catholic-run program, the Eastern Deanery AIDS Relief Program focuses its HIV and TB prevention, testing, treatment, and care efforts in the eastern slums of Nairobi, Kenya. Founded in 1993 following a request from the Roman Catholic priests in Eastern Deanery Nairobi, the program supports both adults and children affected by AIDS while also working to prevent mother-to-child transmission. 14 clinics fall under its purview.
Almost all — 88% — of the amount channeled to the program through PEPFAR is going toward adult treatment this year.
10. African Evangelistic Enterprise
Allocated funding for 2020-2021: $4,967,217
Headquarters: Nairobi, Kenya
While its core mission is in "evangelising the cities of Africa in word and deed in partnership with the Church," AEE also runs several community-based projects. These span a range of issues, including gender and child rights promotion, education, health, nutrition, clean water, and HIV/AIDS.
AEE operates in 11 African countries, but the money provided by PEPFAR this year is focusing on work in Rwanda. The majority of funding — 99% — is being directed to the enterprise's work with orphans and vulnerable children. The remaining balance is supporting its work in HIV testing and counseling and sexual prevention.
Raquel Alcega contributed reporting to this article.
Devex, with support from our partner GHR Foundation, is exploring the intersection between faith and development. Visit the Focus on: Faith and Development page for more. Disclaimer: The views in this article do not necessarily represent the views of GHR Foundation.
Printing articles to share with others is a breach of our terms and conditions and copyright policy. Please use the sharing options on the left side of the article. Devex Pro subscribers may share up to 10 articles per month using the Pro share tool ( ).